Hawthorne Hunt's Life
My cousin Hawthorne Hunt died on September 28th, 2002. Her memorial service was on October 6th. My great Uncle Ronald Lawson has written about the memorial for those who didn't make it. She was a drummer, an artist, an amazing person. Rest in peace.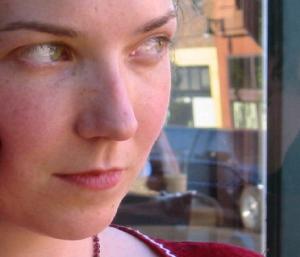 Memorial Services
Hawthorne Hunt
October 6, 2002
The day dawned overcast and cool for Hawthorneís Memorial Services at Portland State University in the ballroom in the Smith Memorial Center in downtown Portland, Oregon. We departed about for the services to make sure we arrived on time and avoid the Portland Marathon schedule for that day in the downtown area. We parked in the school parking garage across the street from the University. Arriving at the street level we met my cousin, Jean Hanselman with her son, Mike, and his wife, Penny, and Margaret and I walked with them, taking the elevator in the Smith Memorial Center to the 3rd floor for the services. At the entrance doors to the ballroom, attendants were handing out programs, with an insert from Hawthorneís 1st Grade, listing her favorite things, but she noted under the caption, ďBut donít give me anyĒ, and she had printed ďtomatoesĒ. On the cover was a picture of Hawthorne, October 29, 1972 Ė September 28, 2002. The inside leaf contained an inspirational poem, and the overleaf listing the speakers for the Readings and Remembrances.
We entered the ballroom that was filled with chairs for the gathering facing the stage with a huge video screen with a picture of Hawthorne flanked by a piano and the podium at the end of the stage. The first three rows of chairs were reserved for immediate family and close friends and scheduled speakers. By the time we got settled and the people began coming in droves, they had to get more chairs to seat everyone. There must have been over 400 people in attendance for the gathering, and I hadnít realized that Hawthorne had touched so many lives in her short life of 29 years.
Prior to the readings and remembrances by the listed speakers, Thomas Lauderdale, leader of Pink Martini, a local band that has gained acknowledgement all over the country, played the piano, and set the mood for the day of a celebration of Hawthorneís life. In between some of the speakers, China Forbes, singer with Pink Martini, sang, accompanying herself on the guitar, and she stood on the ballroom floor in front of the stage. It was beautiful.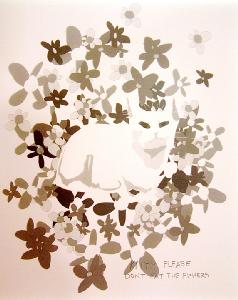 Reading and Remembrances were noted in the program with 11 of her relatives and close friends as speakers, lead by her uncle, John Gardner, who also closed the program with a poem to Hawthorne that he had written, called the Butterfly Bush. After John, David Hanselman read from a family bible that had been given to Hawthorneís Great-Great Grandfather and Great-Great Grandmother in Carnoustie, Scotland, in 1880. David is first cousin to Hawthorneís mother, Ann. Maggie Brenneke, first cousin to Hawthorne, also spoke, and Dan Wieden, Hawthorneís boss at the advertising agency Wieden and Kennedy, spoke, as did 3 of her associates at the firm. A friend that worked at Genoa, a fine Portland restaurant, had met Hawthorne there when she had come to work in the kitchen as a dishwasher, and related how Hawthorne had uplifted the entire staff. One of Annís close friends, who was close to Ann and Hawthorne when she was born, spoke of her early days with them. All these remembrances were most moving and touching, and gave us just another insight into the make-up of this truly amazing girl. A touch of humor came through, when Jeff Selis, one of her co-workers at Wieden and Kennedy, and a speaker, stopped and pulled out a camera and took a picture of the gathering. There were lots of smiles and lots of tears. One of the other co-workers had trouble with her panty hose, and she made a comment to that effect before she told of her remembrances of Hawthorne.
After the Readings and Remembrances, a Video was shown on the big screen of Hawthorneís life from childhood up through her stint with a band as a drummer, and one of the shots showed her leading the band and entertaining an enthusiastic audience. Shots of her during her medication for Cancer were included, and it was a fitting picture of her. At the conclusion of the services, we were advised that musical CDís containing some of Hawthorneís favorites, were available at that the table near the entrance of the ballroom. There were 3 different covers on the CDís, but the contents were all the same. There was also donation information there for people to take with them. The back of the Hawthorneís First Grade card had a place on the back for people to write their thoughts and leave them on the table in a container. I completed one, and tried to put all my thoughts down on that small piece of paper, which was hard to do.
A reception was held in the back of the ballroom, with all the table covered with black tablecloths, with a bar set up with wine, beer, coffee, and soft drinks, and a food table was set up with an assortment of finger sandwiches, and assortment of cheeses and crackers, fruit, spinach rolls, and a selection of cookies. A most impressive spread.
I milled about talking to relatives and strangers alike, and they didnít seem like strangers after a couple of words, and it was most rewarding as we exchanged stories about Hawthorne. I donít see my relatives that much, and it was nice to greet them, even though the occasion was a Memorial Service. Annís previous 2 husbands were there, and Hawthorneís father, Frank Hunt had been a great help to Ann and Hawthorne during her battle with Cancer, and Frank had kept up a Web Site outlining Hawthorneís condition. Frankís wife had also been a help in relieving Ann from her painful duties during this time. John Warner, Annís other husband, had been a favorite of Hawthorne, and he had also been there for them.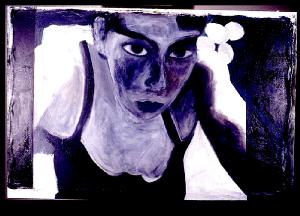 Hawthorneís Grandmother, Mary Gardner, was there, as was Maryís sister, Jean Hanselman, and all the relatives came by for a chat as they sat enjoying the moment together. The gathering started to thin out, and one by one, groups started to leave, and we followed suit. All the immediate family was given an invitation to attend another get-together at a neighbor of Annís, but we begged off, as we were not up to it, and Ann understood.
As we departed the building, the sky had turned blue and the sun was shining brilliantly again, and it seemed to assure us that Hawthorne was still with us, and I hope that all who were fortunate to attend her Memorial Services carry her memory and inspiration with them the rest of the their lives.
So ended the day, and we arrived home and relived the day, one of sadness, but one of hope and beauty, and God go with us.
Ronald Walker Lawson
October 7, 2002
This Page was last update: 8/14/2003; 11:11:01 AM
Copyright 2003 Scott Hanselman
Theme Design by
Bryan Bell