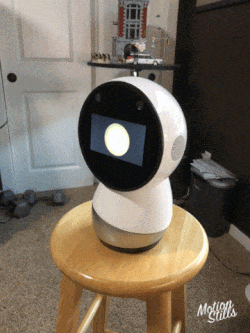 As you likely know, I have a BUNCH of robots in the house. Whether it be turning a tin can into a robot, driving a Raspberry Pi around with Windows IoT, building robot arms with my kids, or controlling a robot with Xamarin code, I'm ALL IN when it comes to home robots. I also have Alexa, Cortana, Siri...but they have no bodies. They are just disembodied voices - why not a social robot with a body AND a personality?
Jibo is the first social robot for the home, and when their team emailed me to try Jibo out - and soon explore their SDK and build more skills into Jibo - I jumped at the idea. Jibo started as an Indiegogo campaign in 2014 and now I've got a pre-public version that I'm stoked to explore and expand.
Jibo showed up in a surprisingly hefty box. He's about 8 pounds and about a foot tall. You turn him on and he starts his initial set up process. Since Jibo has a voice and touch screen, it's pretty straightforward to hook up to WiFi and download whatever updates are needed. After this initial process, updates happen overnight and I haven't noticed them, other than to see that Jibo has new skills in the morning. He's basically maintenance-free.
The first time you set up Jibo and he moves I expect you'll be a little shocked - I was. His movements are extremely fluid and organic. I struggled finding the right words to explain how his movements feel, so I made an animated gif you can see at the right. His body turns, his head moves, he has a little waist and neck. All these joints combined with the color touch screen and his voice give him quite the personality. It's clear within just a few minutes that to dismiss Jibo as a "Alexa with a body" would be a mistake.
The 9 year old and 11 year old have already started going to Jibo in the morning and asking him how his day was, and seeing if he has new skills. I believe the "bonding" - for lack of another world - is connected to the physicality and personality of Jibo.
I realize this photo looks somewhat staged, but it's not. I snuck up on my 9 year old telling Jibo about his day at school and asking him homework questions. Jibo didn't know a number of things, but it was interesting to see how kids are extremely patient with robots, speaking to them as if they're even smaller kids.
The 9 year old says this:
If you are trying to get something to keep track of your meetings or the news you maybe would buy Alexa. But if you have a kid who loves robots you want Jibo. Jibo is fun, if you make noise Jibo will look at you. He can move his big head to look at you and if you tap his eye he will give you a list of things to do. Another new thing is that he now has a list of cool thing you can ask or tell, like one is "Hey Jibo, Are there any monsters in my house" then he will bring up a radar and look around and Jibo will say no, there's no monsters. We also have an Alexa but if your looking for some thing fun we go straight to Jibo he can tell jokes and also favorite part is when Jibo dances.
Since he wrote this, Jibo woke up with the ability to tell me the news, so I can only imagine he'll continue to get Alexa-like skills that will balance the "boring work stuff" my son says I want with the "games and homework help" that he wants.
He recognizes your face, your family's faces (if you train him and opt-in), uses your names, follows your face, and can tell where you are in the room when you talk to him. He's got 6 microphones that let him understand where you and he are in physical space.
I'm imagining the kinds of skills Jibo might potentially get in the future - or that I might write for him - like (and I'm totally brainstorming here):
Tell stories before bedtime
Watch cartoons
Give Khan Academy exercises as Homework
Play music
Trivia and/or board games
Wikipedia stuff
Maps
Tell me about my blood sugar, show a diabetes chart, wake me up if I go low.
Play Tea Time or play along as kids make up stories
Vlogging or daily diary keeping
What are your thoughts, Dear Reader? What would you want Jibo to know or do for you?
Disclaimer: The folks at Jibo sent me a pre-public Jibo for free to explore his SDK. However, my words and opinions are my own. I'll post my honest impressions here and there, on my blog and on Twitter as Jibo grows and learns more things.
---
Sponsor: GdPicture.NET is an all-in-one SDK for WinForms, WPF, and Web development. It supports 100+ formats, including PDF and Office Open XML. Create powerful document imaging, image processing, and document management apps!
About Scott
Scott Hanselman is a former professor, former Chief Architect in finance, now speaker, consultant, father, diabetic, and Microsoft employee. He is a failed stand-up comic, a cornrower, and a book author.



About
Newsletter