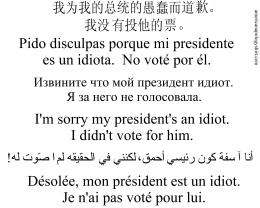 It's offical, Mo and I are going back to Africa, this time to Morocco to see my good friend, the very kind and and talented Moroccan RD, Abdelmalek Kemmou, to take part in the North African Developer's Conference, Casablanca edition. Malek just got back from the Egypt NDC and had a blast. Herr Clemens shall be arriving the day before us so it's guaranteed we'll have a great time. Malek's (and Africa's) hospitality is the stuff of legend.
I may pick up this shirt for the trip (image at right). Anyone have one?
I might take a few ComputerZen T-shirts and merchandise along as prizes. They're selling, which is cool. I should get someone to make me a cooler logo.
About Scott
Scott Hanselman is a former professor, former Chief Architect in finance, now speaker, consultant, father, diabetic, and Microsoft employee. He is a failed stand-up comic, a cornrower, and a book author.



About
Newsletter