I still have a Synology 1511+ NAS and I still think it's lovely. I recommend Synology NAS's but I recommend ones with an Intel processor as I feel the ARM versions are underpowered. I run Plex on my Synology and while I've had a few small issues, I love it also.
Back in 2012 I wrote a post on How to set up CrashPlan Cloud Backup headless on a Synology NAS - Backup Strategies. If you are running a 4.x version of the Synology DSM software, read that post.
Since then however, Synology has upgraded it's main OS to "DSM 5.0" or greater and Java 7 can run on Synology. I've had some hassle getting my newly upgraded Synology running CrashPlan so here's a new writeup for DSM 5.0+ for 2014.
Remember, any good backup strategy follows the Backup Rule of Three.
3 copies of anything you care about - Two isn't enough if it's important.
2 different formats - Example: Dropbox+DVDs or Hard Drive+Memory Stick or CD+Crash Plan, or more
1 off-site backup - If the house burns down, how will you get your memories back?
Step by Step: How to run CrashPlan on your Synology NAS with DSM 5.0
This gentleman at PCLoadLetter has prepared excellent packages that make it MUCH easier than before to get CrashPlan running on your Synology. However, his instructions assume a some technical ability and also require reading a LOT and visiting several pages within his site. It took me about an hour to really understand what was being said. Here's my simplified version of How To get CrashPlan on your Synology.
1. TURN ON THE "USER HOMES SERVICE" ON YOUR SYNOLOGY
Log in to your Synology from a web browser. Mine is http://server. Go to the Control Panel, then User, then User Home and click "Enable User Home Service." This will give the future "crashplan" user a "place to live."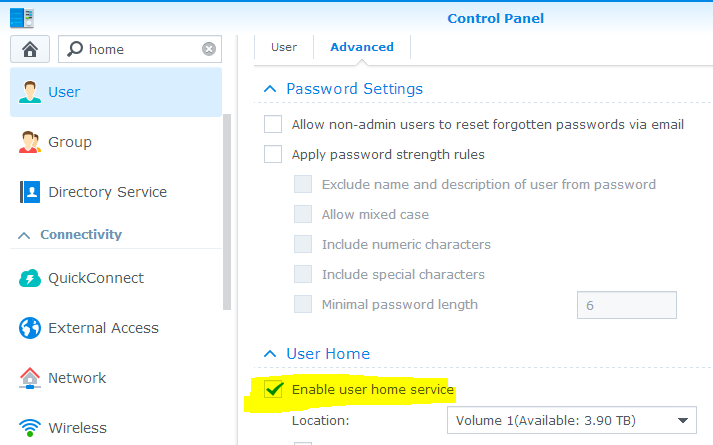 2. ADD HTTP://PACKAGES.PCLOADLETTER.CO.UK AS A NEW REPOSITORY IN THE SYNOLOGY PACKAGE MANAGER
On your Synology, from the web browser, go to the Package Center, then Settings, then Package Sources. Add http://packages.pcloadletter.co.uk as a new repository. I named it "PC Load Letter" but it doesn't matter.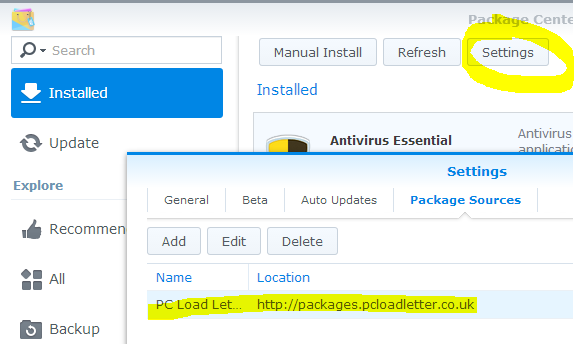 3. ADD THE JAVA MANAGER
In the Package Manager, type Java, and install the Java Manager.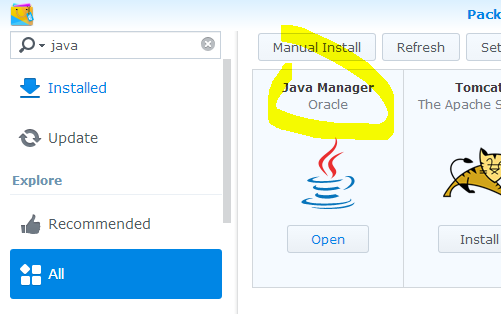 On your main computer (not the Synology) head over to www.oracle.com/technetwork/java/javase/downloads/jdk7-downloads-1880260.html and download a "tar.gz" of Java. Get the right one for your system. I have an Intel x86 so I got the "i586" package.
Today (June 11th, 2014) I downloaded jdk-7u60-linux-i586.tar.gz but yours may have a newer number like "7u61." Now put that Java archive in a folder. Don't lose it.
Back on the Synology, go to the Java Manager and Install Java. From this dialog select the file you've just downloaded. It actually tells you all this on the dialog, too.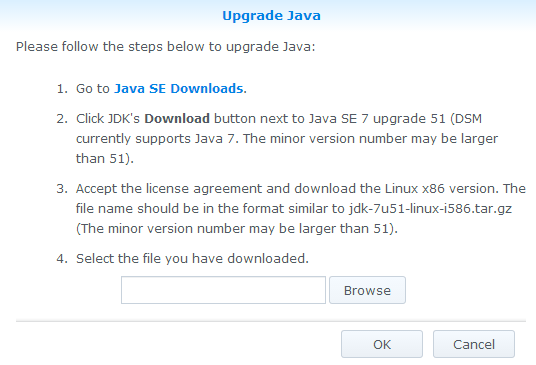 When you're done, Java Manager will look something like this.

4. INSTALL THE CRASHPLAN PACKAGE ON YOUR SYNOLOGY. STOP IT AND RESTART IT.
Staying in the Package Manager, go to Community, and search for Crash. Community is where "Other Sources" feeds into.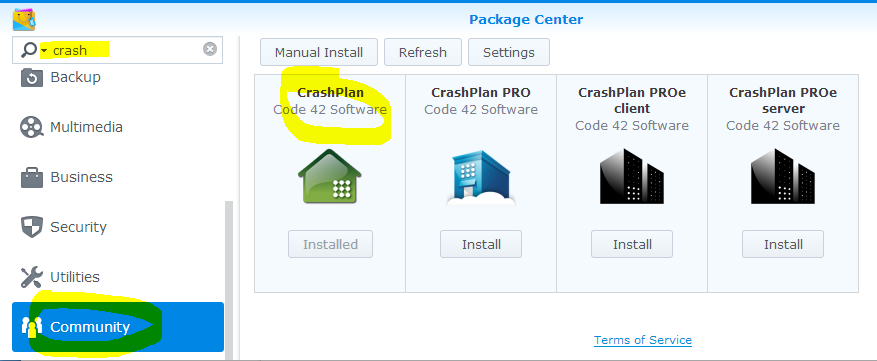 Once it's installed, wait a minute to two for it to calm down, then stop it, and start it again. It should look like this.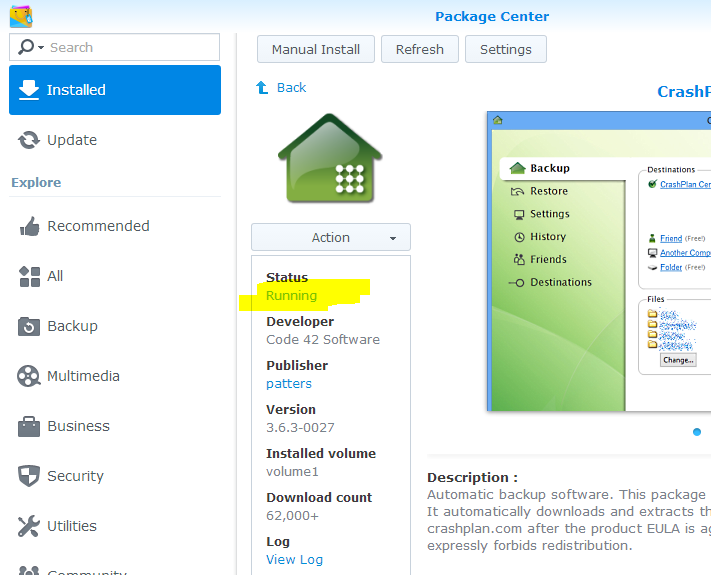 Click on View Log to confirm it's running.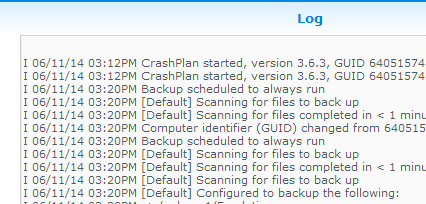 Your log will have less stuff in it if you haven't configured CrashPlan from a client yet.
Remember this installation is *headless* so you'll need to connect to the Synology from a CrashPlan "client."
5. INSTALL THE CRASHPLAN CLIENT ON ONE OF YOUR MAIN COMPUTERS.
Go download and install the right CrashPlan client for you. After you've installed it, you'll need to POINT the client to your Synology.
You need to edit the "C:\Program Files\CrashPlan\conf\ui.properties" text file and put in the IP address of your Synology. My Synology is called "SERVER" so I opened a command prompt and typed "ping server" and was told its address is 192.168.1.18. I needed to run my notepad as administrator to edit this file.
NOTE: This is a Linefeeds only Linux text file so you'll want to use Notepad2 or something OTHER than Notepad so you don't corrupt this file. Make a copy.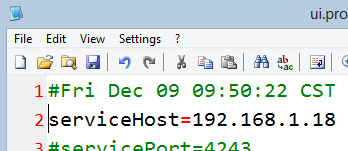 6. HOW DO YOU KNOW IT IS WORKING?
Run CrashPlan on your main computer to ensure it's successfully talking to your Synology.
You should see your Synology's name on the Settings Dialog
You should see CrashPlan Central in your Destinations if you have a CrashPlan subscription
You can select your files that exist on the Synology from the CrashPlan application on your main computer. Remember this CrashPlan client talks to the headless service running on your Synology.
You will likely have to sign into the CrashPlan client. When I did, even though I'd uninstalled and re-installed CrashPlan, it recognized I'd backed up before and it re-sync'ed over an hour. I didn't have to back everything up again!
The initial backup will likely take a LONG time so be patient - like for days or weeks. I am choosing not to backup super-large files like DVD backups, 60 gig VMs and other things. My #1 concern is family photos and personal files.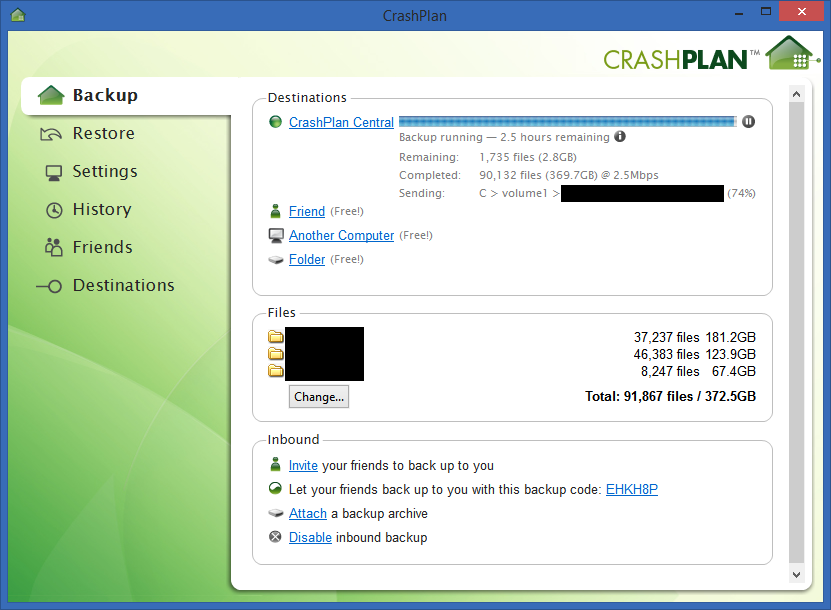 You can get CrashPlan+ and do one computer, or get CrashPlan+ Family and do up to 10 computers.
If I've made any mistakes here, do let me know in the comments and I'll update the post!
UPDATE July 2015: If you are having any issues with upgrades and CrashPlan 4.3, there may be some manual work you'll need to do. http://chrisnelson.ca/2015/07/02/fixing-crashplan-4-3-0-on-synology/
Related Links
---
Sponsor: A big welcome to my friends at Octopus Deploy. They are sponsoring the blog feed this week. Using NuGet and powerful conventions, Octopus Deploy makes it easy to automate releases of ASP.NET applications and Windows Services. Say goodbye to remote desktop and start automating today!
About Scott
Scott Hanselman is a former professor, former Chief Architect in finance, now speaker, consultant, father, diabetic, and Microsoft employee. He is a failed stand-up comic, a cornrower, and a book author.



About
Newsletter