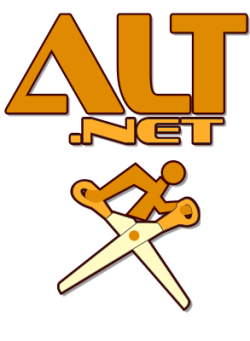 I was at the ALT.NET Open Spaces Conference in Seattle last week. I LOVE Open Spaces conferences, my first was Foo Camp, and I've been to two ALT.NET Conferences. When Open Spaces is done right, it's a brilliant self-organizing thing of beauty. If you want to hire an Open Spaces Facilitator for your own conference, you might consider Steven "Doc" List. He did a fantastic job keeping us on track and keeping the energy level both high and positive.
These are the four Open Spaces principles:
Whoever comes are the right people
Whatever happens is the only thing that could have
Whenever it starts is the right time
When it's over, it's over
if it sounds a little meta-physical, it is, but it works. Anyone can convene a space/talk and anyone can participate. It's less about personality and power and more about people and discussion and it matches the ALT.NET way of thinking perfectly.
Dave Laribee coined the term ALT.NET last year. I did a podcast on ALT.NET with Dave last month. A few weeks before this year's conference even began, Jeremy Miller blogged about the need for ALT.NET. In a nutshell he said:
Specifically, I'd like to see ALT.NET start to fill what I see as a void for information and leadership on:

OOP fundamentals. I think we as a community would achieve far more benefits on our projects from a stronger base of OOP design knowledge than we do for learning new API's like WCF or LINQ. Learning the fundamentals will make us far better able to choose and use these new API's.
Development processes and practices. Microsoft builds and sells tools, and they naturally see tools as the solution to most problems. We the community should be completely in charge of determining our best practices because we are the ones out there building software. Go to a .Net centric development conference. Outside of some token Agile track, you will not see very much about configuration management, project management, requirements, testing, or the all important people issues. A lot of Linq to XYZ talks, but not much about running successful software projects.
Alternative tools. Some of the tools Microsoft makes are great, but some are inferior to non-Microsoft options. Some of these alternative tools open up entirely new possibilities in how we can work.  I'd like to see the entire .Net community to simply broaden its horizons to be more accepting of tools originating from outside of Redmond.
I think he's right on. Not everything MSFT does is the "last word," Microsoft can do better on prescriptive guidance and process, and many .NET programmers could do to refresh their knowledge of Computer Science 101 Fundamentals, myself included.
Also, ALT.NET isn't about Microsoft vs. The World, as Ayende pointed out last year:
Saying things like "An ALT.NET developer would be using Castle Windsor before Enterprise Libraries ObjectBuilder.", or "An ALT.NET developer was using NHibernate before the Entity Framework." is giving the wrong impression. It gives the impression of you are either with us (good) and against us (bad). And you must follow Our (notice the royality speak) way and no other.

The other objection is that it is focusing on tools and not on a mind set. The way I see it, this is much more about keeping your head open to new approach and ideas, regardless of where they come from. In short, I really like the ideas and concepts that Dave presents, I don't want the idea to turn into "A .NET developers that seeks to use non Microsoft technologies." I would much rather it be "A developer that seeks to find the best tools and practices, and judge them on merit."
I think some folks at Microsoft perceive the ALT.NET crowd as being loud, small, divisive, or all of the above. Deep passion and belief can sometimes be perceived as loud or argumentative. I think a better way to put it would be "pragmatic." More and more MSFTies, ScottGu included, get this. I enjoy being a part of this group.
ALT.NET is about picking processes and tools that work for you and make you happy, picking the best one or a number of them, and using them all together, so I took a moment this afternoon and whipped up an idea that a bunch of us at the conference had late one night: The ALT.NET Geek Code.
Here's mine (note the DIV tag and CLASS in the source. Any designers want to whip up a nice CSS box, with a small ALT.NET Logo? Thanks to Simone for the nice CSS and layout and Adam Kinney for the Silverlight Badge!)
What's it mean? Well, it's a code that describes the processes and tools that I like to use to develop (as of this moment...these things tend to evolve.) You can get your own ALT.NET Geek Code and post it on your blog if you like. Perhaps we'll be able to use Google to scrape the Interwebs and do a distributed ALT.NET Tools Survey someday. ;)
Should you care about ALT.NET? Even if you aren't into the cult of personality, you can definitely learn something from getting involved in the conversation.
UPDATE: I also want to point out that I'm intending to use the term "Guys" in this post's title in the gender-neutral usage. I am acutely aware of the need for more women in this field, so much so that I convened a talk at this year's ALT.NET Open Spaces Conference called "What's with all these White Guys" which was attended by the both the women who came to the conference this year.
Related Links
About Scott
Scott Hanselman is a former professor, former Chief Architect in finance, now speaker, consultant, father, diabetic, and Microsoft employee. He is a failed stand-up comic, a cornrower, and a book author.



About
Newsletter