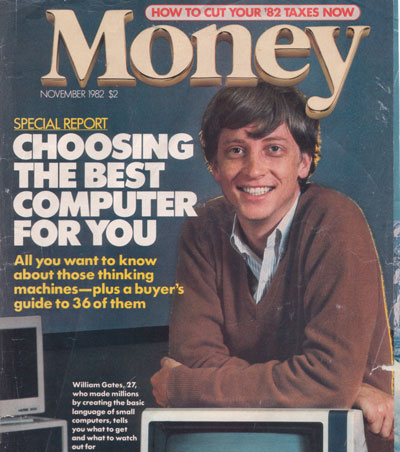 Found this little gem in the archives and scanned it for y'all. Couple of great ads inside.
An IBM PC ad, the one with Charlie Chaplin - 16k bytes. 16 bit, 8088. optional 5.25" 160k floppy. 4-color 320x200. Good times. Only $3k.
"The modem that plugs into your phone takes the codes your IBM Personal Computer understands and turns them into signals that can be transmitted over phone lines"
Some nice articles on acoustic vs. direct-connect models. The acoustic model from Novation was only $189.
This was back before computing was limited to a few companies. Some highlighted models:

$g(Apple II)
$g(Atari 800)
$g(Commodore 64)
$g(Franklin ACE 1000)
$g(IBM PC)
$g(TRS 80 Model III)
$g(Apple III)
$g(Casio FX9000P)
$g(Corvus Concept)
$g(Cromemco C10)
$g(DEC Rainbow 100)
$g(Fortune 32 16)
$g(Heathkit H90 Zenith Z89)
$g(MTU130)
$g(NEC APC)
$g(North Star Advantage)
$g(Olivetti M20)
$g(TFI if800)
$g(Victor 9000)
$g(Wang PC)
$g(Xerox 820II)
$g(Dynalogic Hyperion)
$g(Epson HX20)
$g(Grid Compass)
$g(Kaypro II)
$g(Lexicon LEX31)
$g(Osbourne I)
$g(Otrona Attache)
$g(Panasonic RLH1000)
$g(Sharp PC1500)
$g(Atari 400)
$g(Commodore VIC 20)
$g(TI99 4A)
$g(Timex Sinclar 1000)
$g(TRS80 Color Computer)
Do you have any fond memories of these beauties?
About Scott
Scott Hanselman is a former professor, former Chief Architect in finance, now speaker, consultant, father, diabetic, and Microsoft employee. He is a failed stand-up comic, a cornrower, and a book author.



About
Newsletter