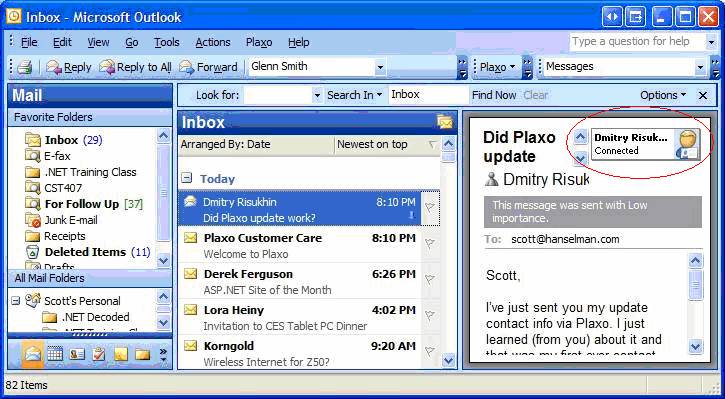 Sometimes a tool just works really nicely. There's a lot of little inexpensive Add-Ins out there for Outlook. Personally I use the Addins DateLens and NewsGator in Outlook because they integrate to seamlessly.
Today, I was completely snowed in so what did I do? I did some housecleaning. Not the Vacuuming kind, the Data kind. I've got 500gigs of crap that I've been saving since I Stacker'ed my then-full 200meg HD in 1993. So I started with my contacts. I've been carrying THEM around in a giant CSV file since Lotus Organizer. Literally as I was organizing, debating how to update this pile, I get an email from the venerable Sam Gentile asking to update my contact information via some service called "Plaxo."
I updated my contact info for Sam without having to sign-up or -in for anything. Upon deeper inspection, I check it out, and install it. TRULY a seamless install.
I wrote a form letter and told Plaxo to request updated info from my friends and acquaintances. True, you might think it initially smacks of spam, but it's a REALLY clever idea.
While I wait around for Longhorn, Common People Dialogs and WinFS to realize that fred@whatever.com and fredsmith@someotherplace.com are the SAME GUY, Plaxo links my Contact Database in Outlook with all my friends. For those folks that were already Members I get their updated info immediately and they can choose whether to share business info, personal info, or both, or privacy is maintained. For those folks who don't want to join, they can just give me their new info and it's all good. It's the automatic updating that I think is so compelling as I've lot track of dozens of people that I don't have time to go googling for.
It's only been 3 hours minutes and I've already updated 12% of my 1688 contacts. Not shabby, Plaxo.
About Scott
Scott Hanselman is a former professor, former Chief Architect in finance, now speaker, consultant, father, diabetic, and Microsoft employee. He is a failed stand-up comic, a cornrower, and a book author.



About
Newsletter