Madness I say. George Clingerman has created an XBox360 game using the XNA Framework called "A Conversation with Scott Hanselman."
Yes, you read that right and I'm as shocked as you are. I've been told that conversations with me are as fun as watching paint dry, and I believe my wife when she says this.
George based his game on his theory that I have only a certain attention span while talking to you and will run away if you're not interesting. (No comment. ;) )
He says:
"It may have been my imagination (the drinks WERE free), but about 10 seconds into the conversation it suddenly occurred to me that Scott Hanselman was timing me. It was like the second I walked up to him, he visually assessed me and gave me a set conversation time, say about 2 minutes and 27 seconds. He was keeping this internal timer running in his head and after the timer reached 0, he'd wrap things up and move on. It makes sense, he's a busy guy, got a lot of geek fame and if he's going to circulate or get anything done, seems like a practical thing to do. So as we're talking and I'm watching this timer that I'm imagining running just behind his left eye, I begin to wonder if there are "checkpoint" bonuses. Like maybe if I hit on an interesting conversation topic or say something in a clever way, will Scott increase my allotted conversation time? And then on the flip side, if I drone on or bore him, is he decreasing my allotted time and preparing to move on sooner?
So yeah, I spent my entire 2 minutes and 27 seconds playing this imaginary game in my head. You do XNADevelopment? +10 seconds. Want to help me make a web browser for the 360? No? -10 seconds. You seem pretty drunk. -30 seconds. That was actually funny +10 seconds. Well, got to go."
Now, you too can have that kind of fun on your Xbox or Windows machine. Seriously though, it's a pretty interesting little sample that shows a lot of the 2D Gaming Concepts that you'd need to know in order to create your own - more interesting - game.
Sounds like George had a great time and tried something new, coding this in a weekend using techniques from a 4 Hour Work Week:
"The whole weekend demonstrates once of the concepts I picked up from Scott's interview with the author of the 4 hour work week. Create an environment to set yourself up for success. That's how I finished this game in a weekend. I took away the distractions, surrounded myself with the materials I needed to develop and I got it done. I had an absolute blast."
If you want to download the XNA Game Studio Express, get the 1.0 Refresh here. If you want to download just the XNA Framework, get the 1.0 Refresh here. It's a single download and the FAQ explains lots. There's also lots of good samples and tutorials at the XNA Creators Club. The game will run on Windows if you have an Xbox Controller attached, but perhaps someone will add keyboard support or make it a ClickOnce App...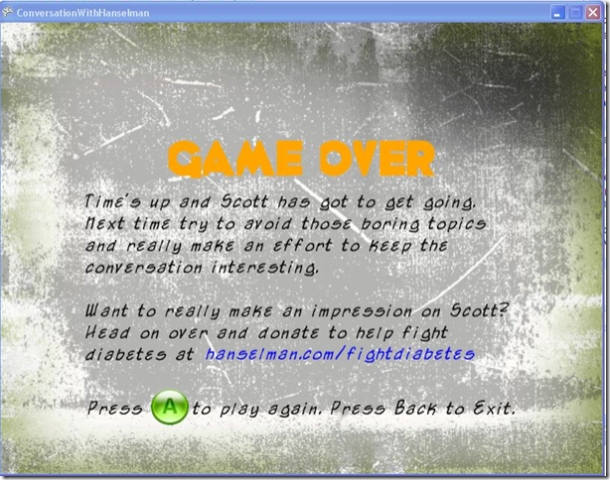 This was a total surprise to me and I had nothing to do with it, but I want to give Big Thanks to George for this fine bit of fun and for, on his own, using his weekend project to help me raise money for Diabetes Research!
Seriously, come on, does that REALLY look like me?
About Scott
Scott Hanselman is a former professor, former Chief Architect in finance, now speaker, consultant, father, diabetic, and Microsoft employee. He is a failed stand-up comic, a cornrower, and a book author.



About
Newsletter